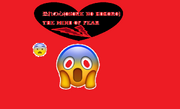 Fear(フェア)
 s a feeling induced by perceived danger or threat that occurs in certain types of organisms, which causes a change in metabolic and organ functions and ultimately a change in behavior, such as fleeing, hiding, or freezing from perceived traumatic events.
Pteromerhanophobia
Trypanophobia
Astraphobia
Cynophobia. The fear or dogs, often resulting from a bad childhood experience
Agoraphobia. The fear of situations that are difficult to escape from
Acrophobia. The fear of heights
Ophidiophobia. The fear of snakes
Arachnophobia. The fear of spiders
Tryphobia-The fear of peeing your pants
Calkphobia-The fear of getting in trouble 
BotanoPhobia(ボタノホビア)-The fear of losing blood
Crinanophobia(クリナノ恐怖症)-Fear of cringey videos.
and etc'
In "愛と平和の歌/Song of love and peace", Creepy mentioned that everyone has their own fear called "恐怖(クリプトナイト/弱点)" which makes them panic/パニック.
Versions/Translations w/ pronunciation
Edit
| Language | Translations | Pronunciation |
| --- | --- | --- |
| Chinese | 恐懼 | Kǒngjù |
| Korean | 무서움 | museoum |
| Thai | กลัว | Klạw |
| Spanish | Miedo | N/A |
| Hawaiian | Ka makaʻu | N/A |
| Swedish | Rädsla | N/A |
| Russian | Страх | Strakh |
| Italian | Paura | N/A |
| French | Peur | N/A |
| Arabic | خوف | khawf |
(*some translations don't have pronunciation)